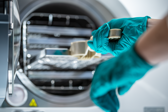 7th Sep 2021 in Dental, Animal Health, Healthcare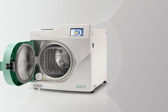 30th Jan 2022 in Dental, Animal Health, Healthcare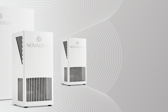 21st Feb 2022 in Animal Health, Dental, Healthcare
The right support for your decontamination equipment
26th Aug 2023 in Dental, Animal Health, Healthcare

When looking to invest in an autoclave, it is vital that you make the right decision for your dental practice. There is plenty to consider when purchasing a new autoclave – this is where support from the manufacturer proves incredibly useful. Not only should the model be appropriate for your needs, but you should also take into account the service that is provided with the product. In the rare event of a breakdown, your autoclave needs to get back up and running as soon as possible, so as to avoid excessive downtime.. The right service contract is a key consideration.
Prior to your investment
With the sheer number of models available on the market, you need appropriate guidance to make the right decision for you. You may have always used a particular autoclave model or have been recommended one by a peer – regardless, it is always worthwhile seeing what other options there are for you. The choice can be overwhelming, which is why you should contact the manufacturer for further guidance. Leading product providers are dedicated to ensuring you receive the right help. They will take the time to walk you through their product offerings to make sure you are well-informed before making your decision.
No two dental practices are the same – that includes their size in addition to their patient footfall, the services they offer and the volume of instruments that are required for sterilisation. Autoclaves are available as types 'B' and 'N', with models available that provide the choice between both 'B'' and 'N' cycles – leading manufacturers will ensure that you are well-matched to the autoclave you are considering.
Don't forget about the service offerings
An equally important consideration when making an investment such as this is whether the manufacturer provides extended support that suits your needs and requirements – this is something you should be looking out for when researching autoclaves and their manufacturers. All autoclave units will come with a warranty, but doing your research will ensure you choose the one that offers the best additional benefits for the years following the warranty. In fact, the right service and maintenance plan would help to extend the working life of your autoclave, in addition to helping you to remain compliant to HTM-0105/SDCEP standards and minimising downtime should a breakdown occur.
Breakdowns are an unfortunate reality of owning any kind of equipment in a dental practice, but with the right service and maintenance plan you can gain much-needed peace of mind that in times of emergency, you are covered. It is always best to be prepared for the event of a malfunction, and ensure the manufacturer is committed to providing a rapid response in times of need. Some manufacturers may not only offer this, but also include an annual validation and pressure vessel certification, which are legal requirements. Plus, you may receive free software upgrades and Enhanced CPD User training, so your autoclave software is always up-to-date. Leading equipment manufacturers will ensure their customers are educated on the product's use and features and what is included, for total transparency so you can make an informed decision.
Post-sale support
Once you have purchased your autoclave, the support from the manufacturer should certainly not end once you have received your equipment – in fact, this is where the right manufacturer will play a significant role. In the rare event of an emergency, having access to on-site and technical telephone support can be vital to minimise downtime.
Eschmann has long been a leading name in infection control, providing high-quality decontamination systems to the dental sector. They also provide Care & Cover, a comprehensive service offering that includes: Annual Validation and Pressure Vessel Certification, Unlimited Breakdown Cover from their team of over 50 engineers nationwide, Unlimited Eschmann Parts and Labour and Enhanced CPD User Training.
A long-standing Eschmann customer comments: "[Eschmann] equipment is something you buy if you are looking for quality and long-term reliability – when you buy an autoclave from Eschmann you receive an exceptional level of support that you don't often get from other manufacturers. The Care & Cover service gives you peace of mind, too."
Rely on your autoclave and your service contract
Purchasing a new autoclave for your practice is a big investment, one that you must get right to ensure you can protect your patients and staff from harm. The right manufacturer will not only provide a high-quality, reliable and durable autoclave, but will also ensure you are adequately supported before, during and long after the transaction has completed, for total peace of mind.
Click here to learn more about Care & Cover, or contact us today for more information.