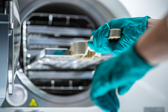 7th Sep 2021 in Dental, Animal Health, Healthcare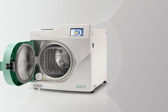 30th Jan 2022 in Dental, Animal Health, Healthcare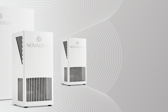 21st Feb 2022 in Animal Health, Dental, Healthcare
Keeping compliant with your infection control
7th Sep 2021 in Dental, Animal Health, Healthcare

With an increased focus on infection control dominating healthcare industries, it's always a good idea to look into ways to help ensure that your infection control remains compliant and that your records are traceable.

So, what aspects should you consider when looking at your infection control processes in practice and the equipment you use?

The importance of compliance and record-keeping

Dentistry is a highly regulated industry. With the possibility of a CQC inspection, it's a good idea to ensure that you always have your records in order so that you are well-prepared and confident that your practice is in the best position.

Plus, we cannot discount that litigation against dental practices is something that all professionals should be wary of. Though legal cases built around infection control are very uncommon, it's still better to be fully prepared for all eventualities, meaning that traceable information and utmost compliance are always the best way forward.

Keep your records in order

The first thing you should do when considering your infection control in practice is to look at the record-keeping process to see if there are any gaps or weaknesses in your current system. Keeping a detailed record of cleaning schedules and any actions performed is a smart way to ensure that your processes remain easily traceable. This way, you can identify any flaws in the team's infection control routines and address these issues before they cause a bigger problem.

This can be as simple as creating a cleaning record that needs to be signed by staff when they complete certain daily duties. However, when it comes to other aspects of infection control such as sterilisation of instruments, you can streamline the record-keeping process by choosing systems that have features dedicated to this function.

For example, some of the latest autoclave models on the market will have separate user profiles for each operator, so you can always see who has used the equipment and when they have run a cycle. Plus, products may even have the option for remote, wireless cycle logging and other similar features. These will also leave an accurate record of when systems were operated and, in most cases, be traceable to particular users.

Added features for guaranteed compliance

In terms of the infection control equipment you use in practice, it's good to see whether these solutions have extra features that help ensure their efficacy and reliability. These will help to ensure that your standards of infection control are kept at an excellent standard and reduce the chance of any compliance breaches occurring.

One example is that some modern autoclaves may have features such as motorised chamber doors to guarantee chamber integrity, or have easy to perform test cycles so that you can perform the required checks without unnecessary hassle. You can also look out for systems that offer specific cycles depending on the equipment in the load or that can adjust the type of cycle to suit the specific load being processed. These extra features help to ensure that these items are treated properly so that any potential risk for cross-contamination is significantly reduced, as well as streamlining the whole process.

Choose an autoclave that offers it all

The new Little Sister SES 3020B, 23 litre vacuum autoclave from Eschmann is a system that offers all of these benefits and more. Designed to encompass the ingenuity in infection control that Eschmann holds at the core of its identity, this new model has a number of inbuilt features that ensure both compliance and traceability for extra peace of mind.

The system has multiple microprocessors with independent sensors and unique post sterilisation air detection that provides real-time self-checking verification for every stage of the cycle to ensure ultimate reliability. Plus, with separate user profiles, the option to upgrade to real-time wireless cycle data management and integral data download via USB for essential cycle records – you can ensure your infection control is fully traceable every step of the way. Add in its ability to swap between 'N' type and 'B' type cycles, as well as its extended sterilisation and drying cycles for implant kits, and you can see how the Little Sister SES 3020B will be a huge asset to your practice.

A safer future

Infection control is an important part of your practice. By doing what you can to guarantee high standards, traceability, and compliance, you can have peace of mind that you are keeping your patients and your business well protected.

Click here for more information on the Little Sister SES 3020B.