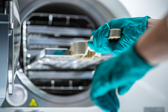 7th Sep 2021 in Dental, Animal Health, Healthcare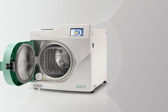 30th Jan 2022 in Dental, Animal Health, Healthcare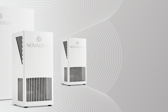 21st Feb 2022 in Animal Health, Dental, Healthcare
Innovation in infection control, innovation in service
30th Jan 2022 in Dental, Animal Health, Healthcare

Purchasing or leasing decontamination equipment is an important investment. After all, these systems are instrumental in keeping your practice a safe, compliant place to provide care.

As such, it makes sense to protect your investment as much as possible to maximise the uptime of your equipment and keep everything running smoothly.

Eschmann not only provide and manufacture a range of exceptional, innovative decontamination equipment, but also help you to make the most of these investments with service offerings that truly go above and beyond. With Care & Cover from Eschmann, you can feel safe in the knowledge that your decontamination equipment will remain effective and compliant.

Annual validation for complete peace of mind

In dentistry, compliance is key. With Care & Cover from Eschmann, you not only benefit from a dedicated manufacturer's HTM01-05/SDCEP validation at the point of installation, but also annually after to ensure ongoing compliance. Furthermore, Care & Cover includes annual Pressure Vessel Certification – a legal requirement.

By providing this documentation, you can be confident that Eschmann has supplied you with everything you need for CQC inspections – keeping you compliant, covered and prepared.

Keeping you up to date

Regular maintenance of your decontamination equipment can help ensure that uptime is maximised. As part of Eschmann's ongoing commitment to ensuring your practice remains compliant, the Care & Cover package includes scheduled annual validation and maintenance service visits, helping to guarantee that your system remains in perfect working order.

As an added bonus, the team of engineers at Eschmann will also automatically upgrade your system with the latest software updates free of charge.

Protection in every eventuality

Even with the best maintenance, equipment breakdowns can happen. That's why Care & Cover from Eschmann includes unlimited breakdown cover as standard. Our nationwide team of engineers boast swift response times, in-depth knowledge of all of our systems and only use original Eschmann parts. This helps us to solve any problems as fast as possible and to the highest standard, giving you the safety net you need in case anything should ever go wrong.

Furthermore, our Care & Cover policy is inclusive of all spare parts and labour costs, so there are no unexpected charges. Our service is transparent, efficient and cost-effective – protecting your investment has never been easier.

Here for you wherever you are

Eschmann has over 50 engineers across the nation, helping us to provide an unrivalled standard of professional support. As we have such a wide network of professionals, we are able to we keep our response times short and our support accessible. Ultimately, minimising any potential downtime for your practice is our top priority, and our team of engineers will always go above and beyond to ensure that you have the backup you need to keep everything running smoothly.

In a similar vein, our Technical Telephone Support team are a trusted first port of call for any enquiries and concerns. We ensure that all of our team members are equipped with the knowledge and understanding they need to answer your customer queries. This helps to further minimise any potential downtime and curb your costs by providing practical solutions to problems.

Learn more with Eschmann

Keeping your team up to date with infection control is a top priority. As an invaluable extra benefit of our Care & Cover policy, our engineers are able to provide Enhanced CPD User Training.  Individuals receiving this training will be provided with certification, helping you to keep your practice records up to date. This way, you can feel confident that your team understand the equipment inside and out and that everyone knows how to operate it while remaining safe and compliant.

Also available for leasing!

Want to lease your decontamination equipment instead of purchasing? Our leasing contracts all include our Care & Cover policy as standard, meaning that this equipment will benefit from the same level of care.

Our advantages at a glance

Here's what you get with our Care & Cover policy:
Annual validation & pressure vessel certification
Annual service & free software upgrades
Unlimited breakdown cover
Unlimited Eschmann parts and labour
Nationwide on-site support
Enhanced CPD User Training
Technical Telephone Support
Annual contracts for our autoclaves start at £451, and we have Care & Cover options for our other decontamination equipment too.
To find out more about our service offerings, click here or get in touch with the team today.