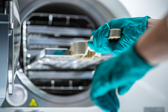 7th Sep 2021 in Dental, Animal Health, Healthcare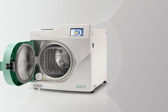 30th Jan 2022 in Dental, Animal Health, Healthcare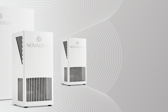 21st Feb 2022 in Animal Health, Dental, Healthcare
Cover you can count on
26th Jun 2022 in Dental, Animal Health, Healthcare

It is important to invest in all aspects of your practice and team to ensure you continue delivering exceptional patient care whilst developing and future-proofing your business. This is relevant when it comes to everything from imaging machines to infection control technologies. Whatever you're upgrading or replacing, steps should be taken to maximise your financial return and protect your investment in the long-run. This involves maintenance and servicing of the equipment to keep it in good working order for longer, as well as an insurance policy that offers a plan-b in the event of a breakdown or technical difficulty.

Care & Cover from Eschmann provides everything you need to guarantee your Eschmann decontamination equipment works efficiently and is fully compliant to HTM01-05 and SDCEP guidance.

Cutting-edge technology and team training

Eschmann is proud to offer an array of industry-leading decontamination and infection control solutions designed to optimise associated processes in the dental practice. To keep your equipment at the cutting-edge, Care & Cover ensures you seamlessly receive the latest software upgrades and developments. This is just one way that Eschmann delivers consistent support that you can depend on.

Eschmann engineers are also able to deliver enhanced CPD training for all relevant members of your practice team to make sure they are knowledgeable and confident in using the equipment. This Enhanced CPD User Training is available at no extra cost and will familiarise your team with all necessary technology features to ensure they can utilise it safely and effectively.  

Compliance made easy

Keeping all infection control equipment compliant with local guidance is a mandatory requirement.

Eschmann offers total confidence that your equipment meets all the necessary standards and guidelines. Your equipment will be installed and validated by Eschmann's dedicated engineers who will provide a manufacturer's HTM01-05/SDCEP validation for your records. This is reviewed and confirmed annually to ensure that your technology remains working as effectively as possible.

As part of Care & Cover, you will also receive Pressure Vessel Certification, which is a legal requirement for dental practices to comply with the Pressure Systems Safety Regulations (PSSR) 2000. This is designed to protect staff from potential risks associated with using or maintaining the equipment. Aside from demonstrating your compliance, this certification and support from Eschmann provides reassurance that your equipment will remain efficient for maximum output and minimal downtime.

Equipment breakdowns covered

Care & Cover from Eschmann also offers protection in the unlikely event of a breakdown. All Eschmann engineers nationwide have immediate access to original manufacturer's parts ensuring that, should your decontamination equipment breakdown, our team will be there to fix it in the shortest possible time.

You can rest assured that there will be no unexpected or hidden charges, no limit for spare parts and no travel or labour costs. Everything is included in your Care & Cover policy.

For added peace of mind, we offer technical telephone support. This is a great resource and further ensures that simple to solve issues or equipment breakdowns are resolved quickly over the phone. If you don't need an engineer to visit in-person, you may be able to resume normal activity straightaway following a quick call to our technical team.

Equipment leasing covered too

If you are interested in leasing decontamination equipment instead of purchasing it outright, Eschmann's Care & Cover provides protection for you too. Eschmann 3-, 5- and 7-year lease contracts benefit from the same exceptional service as already described. This includes equipment installation, testing and certification, enhanced CPD user training, on-going maintenance and breakdown cover.

Find out more!

Eschmann's Care & Cover is available alongside an array of decontamination equipment.

Don't forget, Care & Cover includes:
Annual validation and pressure vessel certification
Annual service and free software upgrades
Unlimited breakdown cover
Unlimited Eschmann parts and labour
Nationwide on-site support
Enhanced CPD user training
Technical telephone support
To find out more about our service offerings, please contact the team. Alternatively, you can complete a Care & Cover package quotation form.